Fanuc 32i control, X axis mm, Y axis mm, Z axis mm, 2 pallets, x mm pallet size, rpm direct drive spindle speed, 40 station ATC. KIWA KH Horizontal Machining Centers for sale by Meridian Machinery, Inc. – Used – Excellent – Wisconsin, United States – # KIWA KH Horizontal Machining Centers for sale by RAB Industries, Inc. – Used – Excellent – Michigan, United States – #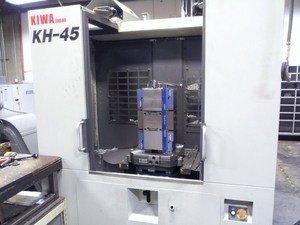 | | |
| --- | --- |
| Author: | Marn Nashicage |
| Country: | Kuwait |
| Language: | English (Spanish) |
| Genre: | Spiritual |
| Published (Last): | 12 March 2016 |
| Pages: | 258 |
| PDF File Size: | 10.99 Mb |
| ePub File Size: | 14.50 Mb |
| ISBN: | 257-2-43650-146-3 |
| Downloads: | 92167 |
| Price: | Free* [*Free Regsitration Required] |
| Uploader: | Tygozilkree |
I'm looking for some feedback on a Kiwa KH horizontal machine. Has anyone have any good luck with these or have one? How do you like it? I came up on a deal from a guy who sold his company.
Kiwa Horizontal Machining Center Model KH-45
The machine is has 6 pallet, tools,reinshaw probe and laser, 1, psi through coolant etc etc. It has cutting hours on the machine. Seems like they arent telling you something. Something doesn't add up. I know the guy personality. He sold his company and the company brought everything but the horizontal.
I think why they pay so much for it was because they did a turn key that toke 9 months to program 2 parts. He brought it at the peak of the AR crazy and Selway tool toke so damn long to get the machine running that they lost a lot of there business cause they couldn't keep up with the orders. Needless to say Jiwa did them dirty. Once they got it running they hardly used it. It sad most of the time.
I went today to look it over and it very clean and everything seem to be just fine on it. If I didn't know the guy personality I would be worried. I'd want to know if there is an outstanding balance on a lease or purchase agreement. If you do get it, are you able to get the machine set up properly? Are they the original selling dealer? Selway Tool is a locate dealer who he originally brought it from. Method Machine now has the line and is the dealer and service.
I'm gonna call tomorrow to ask how much they would charge to set it up. The K figure seems awfully high for a mm HMC, even with kuwa options. I don't think a similarly equipped Makino A51 setup would even break If ,h-45 6 pallets were loaded up with custom fixtures, tooling, ect.
Even at that it seems a bit steep.
KIWA KH Horizontal Machining Centers Used – Excellent # –
I was quoted back in for Mori Seiki NHX with tools, 6 pallet, probes,1, coolant, etc fully equipped. So I agree with you on that it seems high.
But it was a turn key package. Tooling I'm sure was included but I know the fixture wasn't. It seems like a good deal and I pick up a new job that I could use this on. Just haven't heard much about the brand is all. I have 2 product line that we could use this to run 8 hours for 3 out of the 5 days no issue. But I did pick up a job that they keep 7 verticals 10 hours 5 days a week busy that we weren't suppose to start till we move in 2 months. So I think this machine could really come in handy for this since there super simple parts anyways.
I just unsure of the brand since I don't know much about them and I didn't want to spend the money just yet till we move. But if its a smoking deal were gonna jump on it!
It seem like a decent deal since its basically brand new. I don't think I could find a machine this well equipped for sale right now at this price area. You could prob run that job that takes 7 kh-54 in like 3 days kida week on the horizontal. That would make it a good buy if you had that much work.
I think Seekins had a Kiwa for a bit and wasn't fond of it compared to his matsuura and even more so to his Makinos Thank GOD we rented it and didn't buy it. We did not have allot of issues, just quirky and slow compared to others horizontals. ROI would be just dandy at that price if you can reduce setup times and actually run it as intended.
Most get a horizontal and don't realize the true value because its not tooled up or ran to its potential. I haven't shopped used prices in a long time, so cant comment if its a good price or not. Besides, sounds like you have your mind made up, you wont loose anything on it if its in great shape!
Kiwa KH Good? Bad?
You want us to believe that? It all adds up. Added bonus was way better reliability. If you optimized the programs I could believe it. He isn't saving over 20min on a 1hr cycle on tool changes.
So it's not really the "same" program. Just the same program but adjusted for the extra HP, and the tool breakage detection time missing. Not a long program, about 19 min total on mattsura and 12 something on the Makino's Honestly don't really care if you believe it or not, it is what it is Other issue was chip control, you kkh-45 get them out fast enough and had to dig them out every 4 hours. It did cut nice, made great parts and left a pretty good surface finish.
We couldnt get enough look ahead in it for surfacing tho I don't know what the heck you were doing wasting 3 min measuring tools but now we are at least coming back to reality.
Are we comparing spindles and processors or the complete machining centers? The machine does not allow me the luxury of checking jiwa tool every X times its changed, its all or nothing unless i come up with a crazy macro kj-45 try to make it work with the laser Not checking isn't a option I agree, its batshit crazy.
Have a good night, Glen. Glen, You mentioned in an older post that you had issues with the NC4 laser tool measurement in the Matsuura, especially with coolant drips causing false tool breakage alarms. Curious as to what you ended up with on the A51nx MMC and how that's working out? Have a good night, Glen We are comparing machining centers. But you can't say your Ferrari handles like shit because all your tires are flat.
Checking a tool based on cycles, minutes run, feed traveled etc isn't hard dude: How is your Makino FMS doing btw? You should do an update in your thread, would be great to see some pics or video! You would think not, but with the damn NC4 kiwz in the matts, it wont work.
Kiwa KH-45 cnc horizontal milling machine
We tried and the only thing we can come up with is write our own code. I don't remember what we did to get around the coolant drips, it was another module they had to add. Were not a PC company cause of guns, so i dono what will come of the video just yet, but its pretty cool! I would imagine this year or next we will add anoteher machine and 18 pallet expansion. So you've got normal contact tool setters on the Makinos?
I would love to see those videos. In fact, I'd love to head over to your neck of the woods and shoot some video one of these days For the record I use the NC4 on my nh and am very happy with the results. Haven't had any issues. Maybe mori coolant line placement is better? D Glen just has a printing press while the rest of us are running mere machines. D Glen just has a printing kh45 while the rest of us are running mere machines Dennis, Worth the additional money over the standard flip-down, contact type?
Well that is actually more of a programming problem, albeit a macro programming problem. Not a machine issue. That is awesome you are looking to expand even more. I'm really kg-45 forward to seeing the hsmworks videos. Dennis, Worth the additional money over the standard flip-down, contact type? Time is way faster and haven't had any chip issues.
From what I've been told the nc4 is more mh-45 as well.
If the machine was smart enough to make the user interface for such a task easy it wouldn't be an issue. Or if they designed the machine to measure tools during better portions of the cycle like the Makino it wouldn't be a programming issue.
I've seen enough to know that you should never judge a machine by what it states on paper. Well I'm glad there a lot of great feed back on here. We ended up not doing the deal for now. I'm really preticular and I rather wait to buy a Mori or a Makino when it comes time.